Polished LPG Tanks
Do you have a polished Airstream already? Do you wish you could have polished LPG tanks to match? Well we can help you with that.

2 Polished 30 Lb. (7.1 Gallon) Vertical Aluminum LP Tanks (no gauge)

$600.00 + $50.00 S&H

We buy our tanks from retail suppliers. We do not charge a fee or any hidden charges for purchasing. You are welcome to buy them from the same place we do (Vintage Trailer Supply). You may have them sent to us to be polished for a fee of $125.00 each tank and $50.00 for shipping back to you.

We will currently not polish your old LPG tanks.
Please contact us before sending tanks.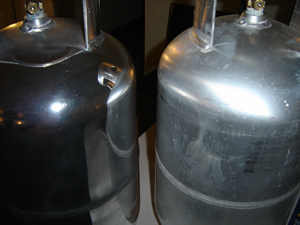 Product features include the following:
Engineered design for lightweight strength
Durable construction with smooth, sleek finish
Rust-free and corrosion resistant
Comfortable hand-hold in the collar for easier lifting
Interiors that are clean, dry and scale free
6 lb. - 40 lb. sizes equipped with an Overfill Prevention Device (OPD)
Attractive, corrosion-resistant aluminum makes the ideal cylinder for home and recreational use. These cylinders are manufactured to Department of Transportation (DOT) 4E specifications in ISO 9002 certified facilities.